Archive for
May, 2007
Natasha Stott Despoja is a South Australian Senator and was the youngest woman ever to enter the Australian Federal Parliament. Natasha was Deputy Leader of the Australian Democrats from December 1997 until April 2001 when she was elected Leader, however she resigned this position in August 2002. Her current portfolio responsibilities include Foreign Affairs, Attorney-General's, Higher Education, Science and Biotechnology, Republic and the Status of Women. Natasha is married to Ian Smith and they have one son, Conrad, 2. Here are Natasha's responses to an interview on motherhood with Essential Baby.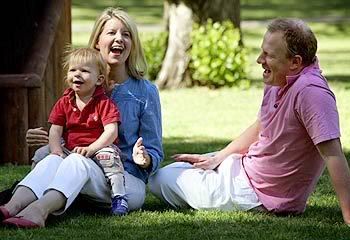 What has surprised you the most about becoming a mother?
"I am bowled over by the absolute feeling of overpowering, unconditional love."
Do you miss anything about your life prior to having children?
"I miss having more time… but I wouldn't change anything!"
What is the hardest part about being a mum?
"I think juggling family and work is always a challenge for working parents. I also can't bear him being hurt or upset. That is hard to adapt to: feeling so responsible for someone else's welfare."
How has your relationship with your partner changed since becoming parents?
"We love being parents – and we're even closer."
What advice do you have for new mothers or mothers to be?
"Shrug off mother guilt! Its a great little invention designed to make women question themselves and their abilities constantly! Have faith in your instincts and don't be afraid to ask for advice. Don't feel bound by unsolicited advice."
What are you great at?
"Ian thinks I am great at "teaching" Conrad but I am not sure if that's teaching him to love chocolate or something more educational like reading! I think I am great at having fun with him. Hanging out with a toddler makes kids out of the best of us."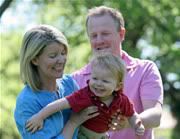 What are you terrible at?
"Ignoring a crying baby."
How has your attitude to work/career changed since becoming a mother and how do you manage the juggle of family and work?
"It's given me a great sense of perspective: I love what I do for my work and have always had a sense of intergenerational equity but having a stake if you like in that future also spurs me on more than ever. I am determined to help make this world fairer and greener! I am working harder than ever before I guess, there's little down time these days. As for juggling, it requires discipline and support. As I spend up to 20 weeks a year in Canberra for Parliament and he is so young, I tend to travel with him: I like waking up in the same city as my boy! As he gets older, this won't be possible. I don't want to disrupt his home life and kindy years which is one of the reasons I have made the decision not to recontest the next Federal Election as that would commit me to an additional 6 years of travelling. Like many working parents, we spend a lot on childcare."
Natasha also shared a funny anecdote about combining politics and motherhood which is included in the 'Mother Who' book (see Nova Peris post)
"I was in the middle of a nappy change when my staff member ran in saying 'you've got to get down to the chamber straight away' I ran downstairs, stood up and was angry at the way the government undermined Senate democracy by doing a dirty deal on an education issue I cared about. I was just finishing my outraged speech when I looked down and saw poo on my dress. I thought 'this is literally a crappy day in the Senate.'"
Source: Essential Baby and Sunday Mail, May 27 2007, pg 41