Archive for
July, 2007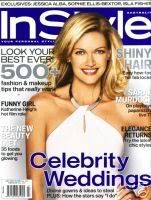 TV host, model and breast cancer ambassador, Sarah Murdoch spoke to In Style this month about her boys: husband, Lachlan Murdoch and sons, Kalan, 2 1/2 and Aidan, 1, as well as her time filling in as co-host of Today, whilst Jessica Rowe was on maternity leave.
Sarah enjoyed the challenge of breakfast TV but missed being with her boys;
"I really missed the mornings with them. I'd be sitting on set thinking,'Oh, they'll be waking up now and having their breakfast,' and that felt weird. I didn't really get to see Lachlan very much. He'd get home from work, we'd do the dinner, bath and bed routine, and rather than having our usual glass of wine I'd have to say, 'No, I've got to go to bed.'"
She would like to continue TV work but it needs to fit around her family;
"It's the hours needed [on set] that's important. I never thought that I'd be able to have children, so I don't want to miss out on their lives now."
The couple spent four-and-a-half years trying to get pregnant and suffered several miscarriages;
"When you've been trying for that long, you just start to get your head around the fact that you may never have children. I did consider adopting, yes. I think Lachlan would have been okay with adoption, but I don't think he was was at the same stage I was at. He was still thinking it would happen, while I was already thinking of looking at other options."
It was finally discovered that an underactive thyroid was causing the repeated miscarriages and once that was treated, babies Kalan and Aidan followed in quick succession.
During Sarah's first pregnancy she met labour-pain management specialist Juju Sundin with whom she co-authored the book Birth Skills;
"She taught me all about the pain of childbirth and how to arm myself to get through each contraction. I went in to have Kalan and not once was I scared. I went through 16 hours and, yes, it's awful pain, but it's not sick pain. You're equipped to handle it. Lachlan was there, he did the last class with me and learned all about the techniques. So when we gave birth it was like we both did it, 50/50. We'd gone through this crying and laughing and screaming and lying down quietly together and at the end when this baby was born, it was just fantastic."
Lachlan is a hands-on father;
"Lachlan is an amazing with the kids. He changes nappies, he does it all – he's really good."
The public interest in her family is hard for Sarah to deal with;
"I really hope my boys can have normal lives here in Bronte. The only thing that bothers me is all these paparazzi photographers. I keep saying to myself one day it's going to get boring – me at the park with the kids. How many times can they photograph it?"
Sarah and Lachlan may even add to their brood;
"It would be nice to have a girl."
Source: In Style, July issue, pg 23-29.