John Howard is looking forward to babysitting duty
July 31, 2007 at 10:53 pm Maddie Leave a comment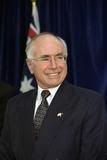 Aussie Prime Minister, John Howard has confessed that he and wife Janette are looking forward to babysitting duties later this year, when daughter Melanie Howard-McDonald gives birth to her and husband Rowan McDonald's first child in September.
Will you take time out to babysit?
"You bet I will be – we'd be very happy to do it."
Source: The Advertiser
Entry filed under: Bub News. Tags: .