Darryl Wakelin retires; poses for photo with family
August 30, 2007 at 5:15 pm Maddie 2 comments
Another Port Adelaide Power AFL player has announced their retirement — this time it's Darryl Wakelin, who posed for a photo with wife Karmen and children, Amelie, 20 months and Gillon, 3 1/2 months to commemorate the announcement. Darryl plans to put his 10 years of study in Pharmacy to use once the footy season in over.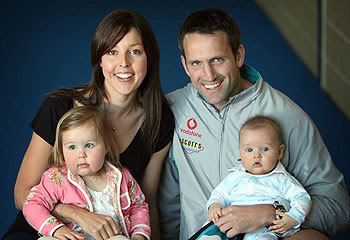 Source: The Advertiser
Entry filed under: Bubs Out and About. Tags: .