Introducing Charlotte Rose Darcy
September 15, 2007 at 12:14 pm Maddie 1 comment
TV Vet, Katrina Warren and husband Anthony Darcy welcomed their first child Charlotte Rose on August 11 at 5.22pm, five days early, weighing 3.8kg and measuring 51cm. This week the couple introduced Charlie, as they call her, to Woman's Day Magazine and talked about parenthood.
Congratulations! You knew you were having a little girl. Was it hard to keep it a secret?
Katrina: I could keep it a secret better than Anthony. I think everyone knew we were having a girl but nobody wanted to say.
Anthony: We told a lot of people close to us. I was terrible. I kept saying "her" instead of "it" or "him".
Katrina: It is so much easier to know the sex of the baby in terms of planning and choosing names.
Is there a story behind Charlotte's name?
Katrina: It was the only name we agreed on! And with Darcy as a surname, we wanted something traditional. We're calling her "Charlie" as a nickname. So she's got options if she wants to be traditional or fun. We both loved Rose as well.
Who do you think Charlotte looks most like?
Katrina: I don't think she looks like either of us yet. She's a real mix.
Anthony: I thought she had my sister's mouth for a while and then she changed!
Katrina: She changes daily. We're looking forward to her first smile.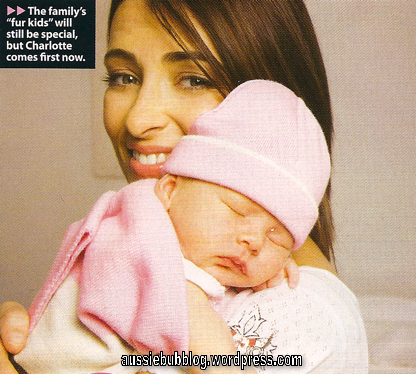 What about her personality?
Katrina: She's pretty laid-back, but certainly lets you know when she's not happy. She does a great "sour" face when she wants to.
Has she done anything particularly cute?
Katrina: We watched her look at herself in the mirror for the first time — which was really cute. Watching her going from hating her first bath to absolutely loving it now … and that's Daddy's job. That's Anthony's little joy when he comes home. It's very cute watching Anthony with her, I have to say.
Do you have any amusing "getting to hospital" tales to share?
Katrina: Anthony drove like an old man. There was no real emergency, but they told us to come down to ensure I was going into labour. It was about 4am so there was no traffic on the road and I swear it was the longest Anthony has ever taken to drive anywhere. The hospital is a 10-minute drive away, but it must've taken us half an hour!
How long was the labour?
Katrina: My waters broke at 3.30am and by 4pm that afternoon my obstetrician Tim was concerned that I wasn't progressing quickly enough and recommended a caesarean for the safety of the baby. Once we decided on the caesar it was all very quick — within half an hour I had Charlotte in my arms.
Who was there with you?
Katrina: Anthony was there and my close girlfriend [and bridesmaid] Alice Hocking was staying with us for the weekend – and she was so excited she had timed her stay so perfectly. What's amazing is, Alice's and my great-great-great-great-great grandmothers were two of three women on one of the First Fleet boats — they came across as convicts together and Alice's ancestor actually delivered my ancestor's first baby. So it is incredible that all these years later Alice was there for my baby's delivery.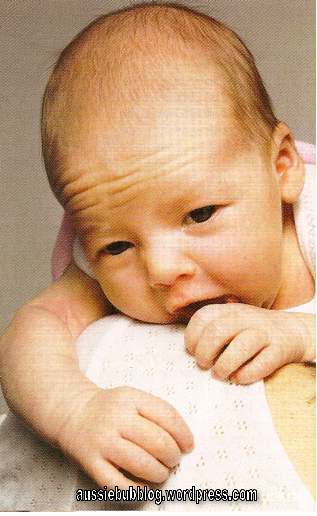 Was it better or worse than you expected?
Katrina: All the reading and research you do is never going to prepare you for your own experience. It was definitely better than I expected. We had a great day and you get something so wonderful at the end of it all. You'll never have another day like it in your entire life — your first-born child.
How was the experience for you, Anthony? Was it hard seeing Kat in pain?
Anthony: I was anxious.
Katrina: Pain? I was having a great time! As soon as those drugs kicked in [laughs]. I was in pain afterwards though!
Anthony: I didn't know what I was looking for but I was watching the doctors very carefully. Especially when they pulled Charlotte out and her umbilical cord was wrapped around her neck. I held my breath when that happened. It wasn't until she let out an almighty scream that you could kind of relax.
Katrina: It was remarkable. We've got photos of her coming out and you're just in awe. You really feel like you're just so clever! Although billions of people have done it before, you think, "How can this be? This is a miracle!"
Were there lots of tears when she was born?
Katrina: It never seemed real. All the build-up, the pregnancy and even on the day, you don't really grasp that you are going to really have a baby in your arms until suddenly you've got one! It's just incredible and they're born so beautifully formed … little tiny fingernails, toenails and little ears — incredible. They're so developed in so many ways and yet they're so helpless. For me it was quite overwhelming and it wasn't until the next day that I started to shed a tear thinking, "My goodness, we've created this gorgeous little being." The first couple of days were extraordinary, getting to know her and bonding.
Are you both relaxing into being a mum and dad?
Katrina: We're going well. She's been a good little baby so far. She squawks every now and then and we've had a bit of sleep deprivation, but I'm enjoying every moment. I wasn't sleeping at all in the last few months of my pregnancy because I was so uncomfortable, so at least now I've got something to get up for! You've heard all this before but every day is special and new. She is taking in the world now and she changes every day.
How did the "fur kids" — Toby the Wonderdog, new Border Collie pup Archie and Milly the cat — react to meeting Charlotte for the first time?
Katrina: I knew Toby would be fantastic because he has worked with babies and children before. But I will be very conscious when she is crawling and a toddler because he's getting older and he doesn't necessarily love people getting in his face or hanging off him. There is a safety issue involved and you can never be too careful. I've got a baby gate up in the nursery to keep the animals out of the room. Archie is young, so the problem with him is he's still so excitable. We've trained him that whenever the baby is around he has to lie down on his mat and he gets rewarded for that. He's also been taught not to walk in front of the pram wheel.
Anthony: We did that before Charlotte was born. Practice runs with the pram, walking around the block.
Katrina: You've got to get animals prepared in advance. Lots of people come home with a baby, and then make lots of changes to the pets' routine, which creates a negative experience for the animal. I let the animals explore the nursery to sniff all the furniture beforehand so it wasn't a novelty when I brought Charlotte home. But again, I would never leave Charlotte unsupervised with the animals around.
Do you think Charlotte has brought the two of you closer together?
Anthony: It's amazing watching Kat as a mother. It really is quite beautiful. She's so doting and I'm really proud about how she is handling it. The connection between mother and child is incredible. It's very special.
Katrina: Relationships do change because the baby is the priority now. She's helpless so you're 100 per cent devoted to her. You have to pull together and rely on each other more.
What has been the biggest surprise for you both? What don't they tell you?
Katrina: I was prepared for it to be challenging, but I just can't get over how difficult it is to get out of the house in the morning. It takes me until about 11am just to get the baby chores done and then she will need to be fed again.
Anthony: When the mid-wife went through Katrina's "day" for the first three months, she said, "You'll be feeding for eight hours of the day …" and we just looked at each other …
Katrina: You know it's going to be time consuming and you think you can be organised around it, but you can't. Just the feeding, it's around 8-10 hours of your day. Everything goes out the window. Sometimes I can't even find a moment to go to the bathroom!
Any plans for baby number two?
Katrina: Can the stork bring that one? No plans right now. Just getting used to the full-on life of having one is enough for now, but I'm sure Anthony would like to add to the family.
Anthony: There are never enough Darcys in the world!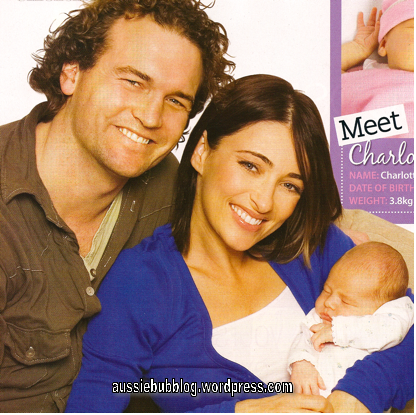 Source: Woman's Day, September 17 2007, pg 14-16.
Entry filed under: Introducing.... Tags: .