Anthony & Miki Field discuss their new son, being parents of three & more kids!
October 16, 2007 at 10:35 pm Maddie 31 comments
Wiggles star, Anthony Field and wife Miki have had a busy couple of years since their marriage in May 2003. Lucia, aged three-and-a-half, was conceived on their wedding night. Her sister Maria was born in 2005 — the same day that Anthony's beloved Wests Tigers won the Rugby League premiership, and baby number three Antonio Carlos Field arrived on April 13 this year, at Sydney's Royal Prince Alfred Hospital, weighing 3.5kg. Even though we had a sneak peek at Antonio on the day he was born, last week the couple invited Woman's Day into their home to share their thoughts on parenthood and posed for some gorgeous photos.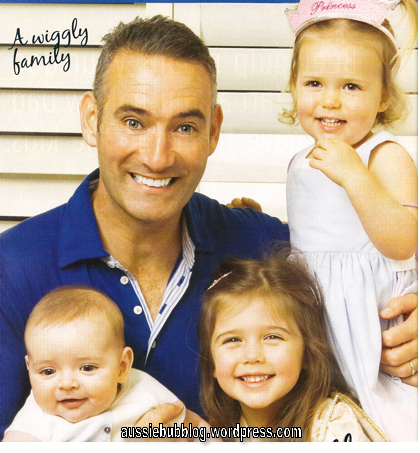 You're not doing badly for a couple who feared you'd never have children, are you?
Anthony: It's amazing. Miki had severe endometriosis and only a month before our wedding, she was in hospital trying to get it all fixed up. We didn't know if it would ever be possible for us to have kids. We thought we'd have too many fox terriers forever, but that changed pretty quickly.
Miki: We are blessed. After Antonio was born, Anthony got a tee-shirt with "I make good babies" written on the chest!
Were you there for the birth Anthony?
Anthony: Yes, I was there and it was a little bit better than Maria's, which traumatised me for many a month. I went on the road two-and-a-half weeks later, and didn't have time to get it out of my system. So this time was better.
Miki: For some! With Antonio, I started to feel contractions at 7pm and he arrived at 10pm. Ouch! Maria's was a very fast labour as well, but she was born with the umbilical cord wrapped around her neck. They had the respirator all ready to go, which was awful. Her heart rate really slowed down and she had a terrible time, poor love. She deserves a little tiara.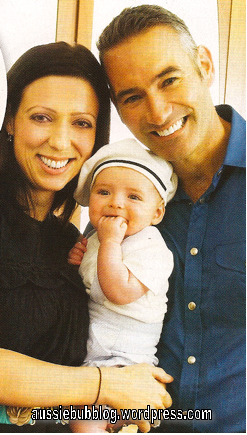 How did you come up with the name Antonio Carlos?
Anthony: Well, St Anthony is the patron saint of lost things – not lost causes – and my mum prays to him all the time when she loses something. I was named after him and people often call me Antonio as a laugh. I think it's a nice name.
Miki: It's a fun name. He'll charm the girls with it!
Anthony: And Carlos Gardel was the king of tango. I love his music. He died in 1930 but to anyone in the Latin world, he's as big as Elvis. We were in Houston last year and this lady who interviewed us, her husband was Antonio Carlos and her daughter was Lucia and she was Maria. It was fantastic! She asked where in the Latin world I came from and I said Australia. I think our Antonio Carlos is going to confuse many people over the years.
Who does Antonio take after?
Miki: He looks like Anthony, especially when he cries.
Anthony: I don't know if it's just a baby thing, but he smiles day and night like my dad. Most babies are happy I think, unless they have medical problems.
Is it nice to have a little Blue Wiggle after two girls?
Anthony: Boy or girl, it didn't really worry us, but it's nice to have a boy. I make no secret of the fact that I wouldn't mind him playing Rugby League for the Wests Tigers one day.
Miki: No way! Gym or soccer is as far as it goes.
Anthony: Well, if he does gym and soccer he'll be very light on his feet like [Tigers player] Benji Marshall. If Antonio wants to do ballet, he can do ballet. I don't want to be sexist about any of it. I take the girls fishing and Lucia went to her first League game with us the other day. She loved it, all the razzamatazz. The day Maria was born in 2005, the Tigers won the Premiership. Miki and I were driving a victory lap through Balmain with a huge flag, just before she went into labour.
How does Miki cope when you're often away on tour?
Anthony: It's really hard for her being left alone with three children, of course. We have help from my Aunty Maureen and a dear friends of the family. But at nights, Miki is breastfeeding and might have two other children crying, while I'm living the high life in Chicago or wherever. Not really! I'm actually on a bus driving for about 10 hours to get to the next gig. But I miss out on a lot.
Miki: It's difficult, but thank God for modern technology; we see each other online and talk to each other on the phone all the time.
Anthony: You have to keep in touch or it's "Danger, danger!"
Is Anthony helpful when he's at home?
Miki: He's wonderful. He entertains the kids and he's great at changing nappies.
Anthony: But I put them in clothes that don't match.
Miki: I don't let them out of the door when he's dressed them! If they're staying at home, it's fine.
Has having children of your own made you a better Wiggle?
Anthony: Totally. I was an early childhood teacher, but even that's different from having your own kids. I think The Wiggles have become more inclusive of the girly world. We've got more fairy tales and princesses. We used to be more about pirates and boy things, like Captain Feathersword. So my family has probably inspired me to be more encompassing of things that would appeal to girls.
What's their favourite Wiggly thing?
Anthony: Dorothy the Dinosaur! Maria loves Jeff (the Purple Wiggle) too. I don't get a look in, but that's cool.
What kind of a father are you?
Anthony: I think I'm a dad who just keeps trying his best and realises his limitations. Children are very demanding and you can't always give them the answers, although you want to. Sometimes they stump me and I just don't know what to say; sometimes I don't know how to console them when they're upset. But I try to be an honest dad. I keep learning lessons from the children as well, which is good.
Do your children know how famous you are?
Anthony: It doesn't mean anything to them, especially at their age. We get recognised and people come up to talk, but it's always positive. It's just part of our daily life. I certainly don't get a big head over it. You still have to be a nice person, no matter how famous you are, and I hope my kids will realise that.
Will they follow in your footsteps?
Anthony: If they want to dance or sing, fantastic, but we don't want to push them in any way. At home, we try to encourage them to be whatever they want to be, do whatever they want to do, because it's very entertaining. Lucia is a classic girly girl; she dances all day on her toes.
Miki: There's always something going on. It's never boring. I think all three of them will be entertainers — although Maria loves the smell of my coffee, so you never know.
Would you like to have more children?
Anthony: In front of Miki I can't really say but, you know, they're so beautiful. I hope Miki doesn't read this article! Ask her and she will say, "Aaaaaargh".
Miki: No comment.
Anthony: I know she needs a break, I do know. But I'm one of seven kids …
Source: Woman's Day, October 15 2007, pg 44-48.
Click KEEP READING for another four images.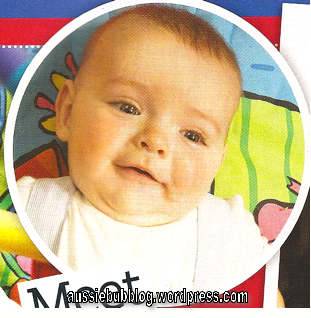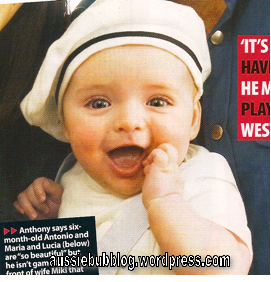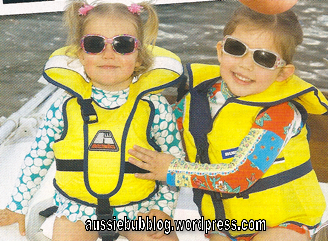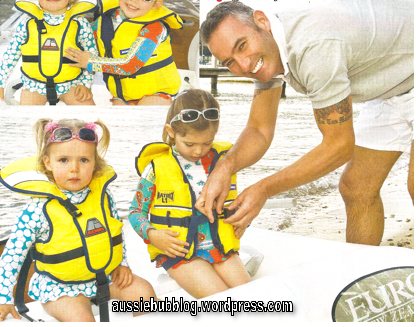 Entry filed under: Bub News, Bubs Out and About. Tags: Anthony Field, Antonio Field, Lucia Field, Maria Field, Miki Field.