Another son arrives for Jason & Anna Gillespie
October 22, 2007 at 10:44 pm Maddie Leave a comment
South Australian Redbacks player and Australian Test Cricketer, Jason Gillespie and wife Anna welcomed their second son Brandon Ryder on Thursday October 18 at 11.42am, weighing 3.96kg. Brandon is a brother for their son Jackson, 20 months and Sapphire, 12 from Jason's previous relationship. Anna described the birth as "pretty uneventful and I enjoyed that," and Jason explained that so far Brandon is the perfect baby:
"He's amazingly placid, he's sleeping really well and feeding really well — a very low-maintenence baby, which hopefully is a sign of things to come."
It is hard for Jason to be away from family when he is on touring for cricket:
"When I'm at home it's quite easy because Anna does everything. The only hard thing for me is being away because you want to be with your family especially when you have a newborn."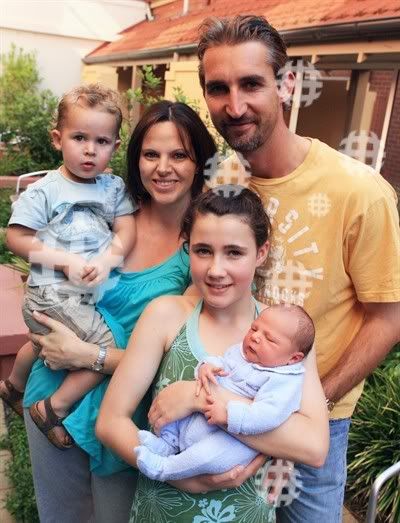 Source: Sunday Mail, October 21 2007, pg 29
Entry filed under: Introducing..., It's a boy bub. Tags: Jason Gillespie.