Posts filed under 'It's a girl bub'
Former ironwoman Karla Gilbert and husband Andrew James welcomed their first daughter Ella Kaelee James on October 13 2007 at 6.45pm, weighing 3.5kg and last week the couple introduced her to New Idea Magazine where they discussed Karla's difficult pregnancy and posed for some gorgeous photos.
On Ella's looks: "I think she looks like me, but she has her daddy's big feet and long limbs — and there's nothing wrong with a girl with long legs."
Motherhood is a learning-curve for Karla: "I wonder now what I ever did with my time before because Ella doesn't like to sleep during the day. But she's such a cutie. She's also the first baby I have ever held. I have never been maternal, and I was always worried that babies would cry if I picked them up, so this is a huge learning curve for me."
As she suffered from amenorrhoea (an absence of menstrual bleeding) they feared they may not be able to conceive: "I had no period for two years [due to greulling training for her ironwoman events], but the first month Andrew and I tried to get pregnant we were successful. One day I was worried I wouldn't be able to conceive and booked in to see a specialist — and the next I was pregnant!
On her difficult pregnancy: "Some women really embrace the whole experience, but I didn't. I felt sick and had a metallic taste in my mouth right up to the birth. Towards the end people told me my tummy was tiny, but I was so uncomfortable that I couldn't imagine being any bigger."
On Karla's 18-hour labour: "I thought I had a high pain threshold, but childbirth was completely new territory. Andrew was wonderful, never leaving my side, rubbing my back and telling me how proud he was, but I was dazed, and even an epidural didn't give me relief."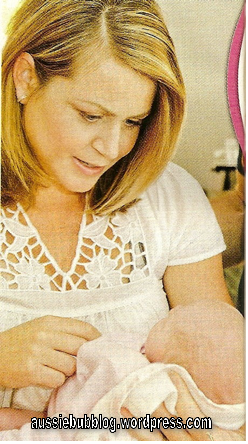 As Ella was in the wrong position Karla needed emergency surgery: "For someone like Karla, who's so fit and healthy and hasn't had so much as a toothache in her life, an emergency caesarean was a huge deal. There was enough urgency to make it seem like an episode from a TV show, and with my own medical knowledge I knew all too well what could go wrong."
Andrew was anxious throughout the operation: "I poked my head over the sheet as they were pulling Ella out and saw the umbilical cord wrapped tightly around her little neck. It hit me that we should just be thankful that a natural birth didn't happen."
When Ella was two-days old she was diagnosed with a dislocated hip: "The paediatrician told us 'clicky hips' are fairly common in girls, and may be due to my compact tummy that held her too tightly in the womb."
Ella now has to wear body armour-type brace for six weeks to keep her legs straight: "We only had time to give her one bath before it went on, and as it's so bulky there's a cupboard full of beautiful clothes she can't wear. Even changing a nappy is complicated, and breastfeeding is awkward because I can't hug her close. I was upset when the doctor was putting the brace on because Ella was crying and all I could think was that my baby wasn't perfect. It was all too much. But it's only temporary, and there are a lot worse things that could have happened — I know we're very lucky."
On their strong mother-daughter bond: "Ella and I will be best friends after everything we have been through together."
Source: New Idea, November 10 2007, pg 34-35.
Click KEEP READING for another image.
KEEP READING >>>